Nielson & Young
CDs, Tapes and Keyboard Collections
CDs and Cassette Tapes
If you wish to review a more comprehensive list of titles contained on each recording click here.
---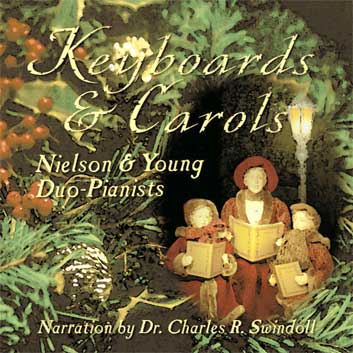 $18.00
Keyboards and Carols
CD Available NOW from Nielson & Young!
For this Christmas, Nielson & Young proudly present KEYBOARDS & CAROLS, a brilliant musical tapestry combining this popular duo's artistry with carols and choral masterpieces, including the Hallelujah Chorus by Handel. Joining Stephen Nielson and Ovid Young on this beautiful compact disc release is their longtime friend, Dr. Charles Swindoll, renowned author and pastor, who reads poetry and narration richly unfolding the mystery, joy and eternal grandeur of the Nativity. Make your Christmas enjoyment and giving complete with KEYBOARDS & CAROLS from the creative minds and hands of Nielson & Young!
Musical Selections Include:
Silent Night
O Come, All Ye Faithful
Toward a Stable
Away in a Manger
Let All Mortal Flesh Keep Silence
Sing of Love Come Down
O Little Town of Bethlehem
My Gifts to the King
Jesu, Joy of Man's Desiring
Giving in Return
A Cadence of Joy
Joy to the World
Hallelujah Chorus

---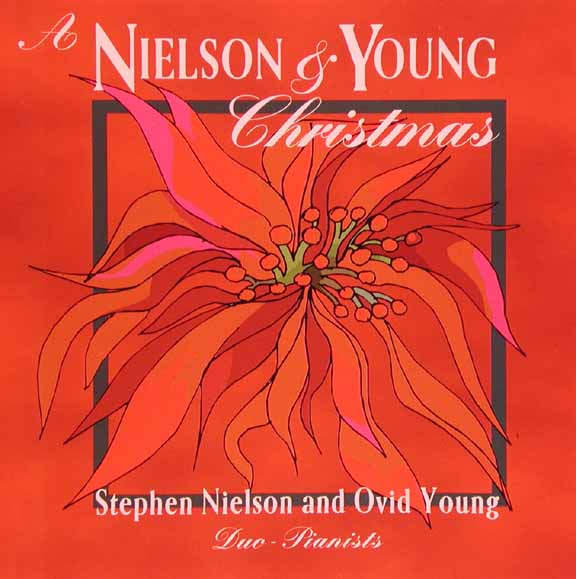 $18.00
A Nielson & Young Christmas
CD Available NOW from Nielson & Young!
The fabulous, enduring music of Christmas presented by Nielson & Young is energetic, rollicking and poignant. It is everything you expect from this celebrated duo-piano team — and much more! And it is like no other Christmas recording you've ever heard, and certainly like nothing else these artists have ever done. Enjoy A Nielson and Young Christmas throughout the year.
1. Angels We Have Heard on High
2. God Rest Ye Merry, Gentlemen
3. Let All Mortal Flesh Keep Silence
4. Joy To The World
5. Carol Of The Bells
6. I Heard The Bells On Christmas Day
7. March Of The Three Kings
8. Fairest Lord Jesus
9. Dance Of The Sugar Plum Fairy
10. Tritsch - Tratsch Polka
11. Gesu Bambino
12. Le Bal
13. Jesu, Joy Of Man's Desiring
14. Jingle Bells
15. Medley: Good Christian Men, Rejoice and O Christmas Tree
---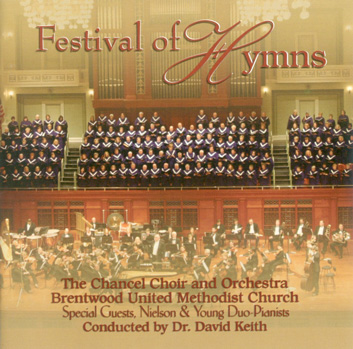 $18.00
Festival of Hymns
New from Nielson & Young!
FESTIVAL OF HYMNS with Nielson & Young, Duo-Pianists, as special guests of the Chancel Choir of Brentwood United Methodist Church, Nashville, Tennessee, with members of the Nashville Symphony Orchestra , recorded in 2007 at the acclaimed new Schermerhorn Symphony Center. Conducted by Dr. David Keith, Nielson & Young perform nine beloved hymntunes, including the premiere American recording of a medley of favorite hymns first performed by Nielson & Young on BBC Television in England's famed Coventry Cathedral.
Musical Selections Include:
Come, Christians Join to Sing
Here I Am, Lord
Joyful, Joyful, We Adore Thee
Eternal Father, Strong to Save
When Morning Gilds the Skies
Saints Bound for Heaven
Immortal, Invisible, God Only Wise
For All the Saints
Love Divine, All Loves Excelling
All Hail the Power of Jesus' Name
Rejoice the Lord is King
O God, Our Help in Ages Past
Great Is Thy Faithfulness
Hymn Tune Medley
Beneath the Cross of Jesus
When I Survey the Wondrous Cross
Christ the Lord is Risen Today

---
Romantic Interlude available now from Nielson & Young!
Stephen Nielson and Ovid Young proudly present their enchanting recording of romantic classics, featuring their peerless duo-piano interpretations of the music of romance, reverie and the musical theater. For cherishing, and for a romantic adventure, this is truly one-of-a-kind!
1. Vocalise - Rachmaninoff
2. Embraceable You - Gershwin
3. Waltz in A-flat, Op. 39, No. 5 - Brahms
4. A Porter Fantasia - Porter
5. Eighteenth Variation on a Theme of Paganini - Rachmaninoff
6. Valse-Musette - Poulenc
7. All I Ask of You and Music of the Night - Lloyd Webber
8. Andante, Op. 51 - Chaminade
9. If Ever I Would Leave You - Loewe
10. Prelude No. 2 - Gershwin
11. Wedding Day at Troldhaugen, Op. 65 - Grieg
12. Clair de Lune - Debussy
13. Liebesfreud - Kreisler
---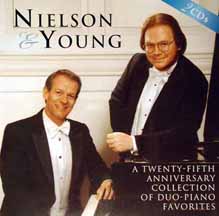 $28.00
Silver Anniversary Spectacular (2 CDs)
Classical and sacred favorites from Nielson & Young's milestone anniversary celebration.
---
A Classical Tapestry
Brahms, Bach, Rachmaninoff, Mozart, Falla, Schubert, Schumann, Shostakovich.
---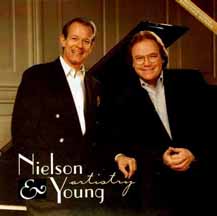 $18.00
Nielson & Young Artistry
Six familiar hymn arrangements plus light classical favorites including Gershwin's Three Preludes.
---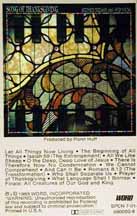 $11.00
Song of Thanksgiving
Nielson & Young's musical for all seasons with duo-pianos, choir and orchestra.
---
Booking Information:
Nielson & Young's booking agent:
Larry Sparks Agency
2829 Parkview Drive
Thousand Oaks, CA 91362
(805) 493-2716
E-mail:Lsparksagy@aol.com